3D Dollhouse
The future of property viewing
Order a 3D Dollhouse for your listing
Shoot 360 photos, upload and create a tour.
Click "Services" in the tour to order.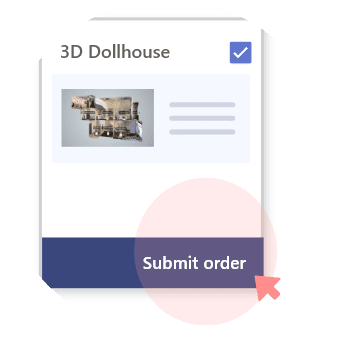 Click "Submit order" to checkout. It will show estimated time of completion.
Important information about purchasing 3D Dollhouses for your property
1
Prior to submitting an order, please confirm that you have uploaded all the panoramas. Upon submitting your order, you will not be able to make any modification during the processing period.
2
You will not be able to delete or amend any 360 image when the 3D dollhouse is being generated and after it is completed.
3
On average - it takes about 12-36 hours for the dollhouse to be completed.
4
While your dollhouse is being generated, you and your viewers may access your 3D tours normally.
5
You will receive an in-app notification once your 3D Dollhouse is completed. We suggest you turn on your push notification setting.
6
You have 72 hours to confirm or request changes to be made for your 3D Dollhouse. If there is no action from you within the review period, the Dollhouse will automatically be confirmed.
7
It is normal to have small gaps in the 3D dollhouse for irregularly shaped spaces.
Start creating your first tour today!
NEED HELP?
+1 (831) 298-6517
Monday-Friday: 8 AM – 4 PM PST